In order to promote the culture of the proper use of new technologies in schools, dana software is designed to carry out all the administrative, educational, and office affairs that are normally designed in a high school, vocational school or free school.
Operation such as registration, classification, unit selection, creating of attendance and absence and grades lists for each course, the ability to record different grades for a course, the publication of annual report card, as well as full completion of graduation operations in accordance with the regulations approved by the single year system and ultimately the graduation certificates and the educational approval sheet are issued by this software.
Also, this software is designed to communicate with other software covered by a comprehensive informatics system based on education areas such as centralized systems, academic confirmation system, the final exam and konkoor holding system and have an accurate exchange of information.
Another feature of system is the ability to expand the scope of operation to issues such as school's financial and accounting affairs, school's libraries, extracurricular affairs, or designing pages for informing and communicating with student's parents in the internet or services such as sending emails and sms to people who are interested in.
This software also has the ability to run in a network with different nodes and users with different permissions and levels of access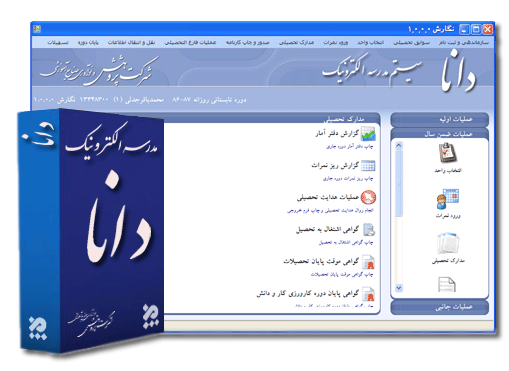 – The possibility to display various types of report cards and academic and disciplinary charts
– Accomplishing of administrative and educational activities by headmasters and teachers at any time of the day
– Linking Students' parents with schools and persuing the children's lesson and discipline situations
– Communicating to the school environment outside the educational hours.
– Features of the student system
– Designing based on the latest techniques of the world on software design
– The ability to communicate with other systems covered by a comprehensive informatics system of the Ministry of Education, the production of files needed for those systems and receiving their outputs.
– Ability to expand and improve operations
– Suitable for implementing in all theoretical,technical and professional branches
– Full and accurate compliance with the latest regulations and educational regulations of a single year system using the opinions of well-known experts in old systems.(exclusive advantage)
– A quick and accurate update in accordance with the latest changes applied to the curriculum
– The possibility of presenting and using the newest information tables of a single year system
– coordination with previous systems under the school's DOS in terms of procedures and interfaces minimize the need for retraining
– The ability to completely and accurately convert the information from the previous system under DOS so that the system is able to continue precisely from the current position of the old system of current school's operations. Also, if necessary, it is possible to reverse the information of the new system into the old system and continue working with that system.
– Possibility of updating quickly and accurately in accordance with the latest changes in the curriculum.
The possibility of presenting and using the most comprehensive information systems of a single year system, such as the course table- the discipline table, the specialized course syllabus for the discipline and…